It's time for you to unleash your inner ceo
Unleash who you really are
so you can attract your deepest desires.
You deeply desire to be a confident, high-achieving business owner. You want it all - the impact, influence, and income.
You know there is a next level waiting for you and you are ready to claim it.
The problem is you feel bogged down with everything you "should" be doing, all the roles you "should" be filling as a business owner. This often results in you failing to take the necessary actions that will actually help you elevate.
In order to reach your goals, you need someone to guide you. Someone to come alongside you in the journey of building your sustainable, fulfilling, business you're wildly passionate about. Someone to help you prioritize and focus on those necessary actions to achieve your high-level goals.
you can do this in 3 simple steps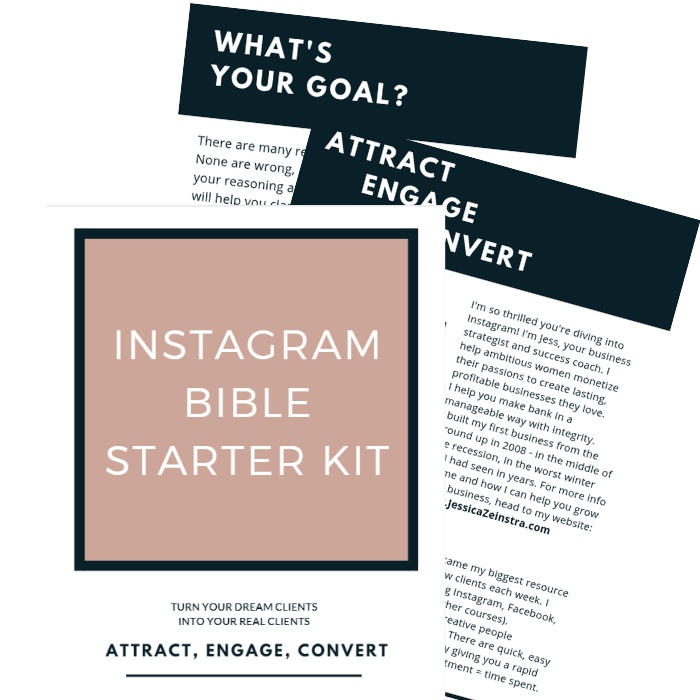 Get started today amplifying your impact, influence, and income by downloading my FREE Instagram Unleashed Starter Kit
Head to my coaching page to review my process, get to know me a bit more, and decide which avenue feels best for you.
You'll then move onto step 3 after reviewing this page.
Book a FREE Introductory Call!
We'll get on the phone for roughly 30 minutes to see if it's a good fit working together.
If we both agree, we'll decide which program best suits your needs.
*this can be booked straight from my coaching page
This FREE guide will help you amplify your impact, influence, and income.
Overwhelmed with everything you feel you "should" be doing on Instagram? Finally clear the noise and focus on a few simple tricks to have your ideal customers finding you.
Social media doesn't need to be hard. In fact, the simpler we make it, the better it becomes. I've spent years working with large companies to develop their content strategy, increase their social media reach, and manage their influencer teams - I know a thing or two about what gets you noticed!
Since 1989, I knew I was meant to serve others. It was the year my younger sister was born and as I looked down at her face I wanted to bend over backwards to make sure she succeeded in life. Just a few years later I discovered my love for the finer things (aka Super Effing Expensive). From that moment on I made it my mission to unearth how I could have both. Financial freedom AND the ability to others. For the past 10 years, I've been climbing the business ladder, developing innovative courses for creatives and leading teams around the world. This has been incredibly fulfilling and I am now taking my decade of business building experience and channeling it into you, ambitious woman. My goal for you is to create lasting income and impact not just for your business, but your life as well. I'm here to help you dig deep and unleash your inner CEO so you can finally take back control of your life and monetize your passions.
Looking for quick, easy ways to amplify your life and business? Get your hands on some of my free resources!
Get out of the rut your stuck in and reignite your passion on one of my high end luxury immersions.
Looking for next level one on one support? Let's get connected!
MALIBU CEO: EXECUTIVE RETREAT
Imagine waking up to the sounds of the waves crashing, your toes pressing into the sand, the sun gently kissing you skin, the hum of of ambitious women connecting to their soul surrounds you...
It's easy to get overwhelmed by the fast paced digital landscape and feel like your dreams are passing you by.
Multiple times a year, CEOs will gather together with their executive teams and have deep dive strategy sessions. They use this time to gain a deeper connection with their tribe and map out their next big moves. It's your time to step into your CEO shoes, become re-energized and map out your future. All while eating delicious food, listening to the waves crash on the beach and feeling the sun hit your skin, in a luxury villa in Malibu.
Craving connection? Wishing you could just press the reset button? Hit a plateau and have no clue how to hit the next level? Then this weekend retreat is for you.